Date: 31st Dec 1967, Sunday
HDB Bukit Merah Public Flats
"Bukit Merah" is Red Hill in Malay, and is a reference to the red couloured lateritic soil found on the hill. Located 3.5 km from downtown Orchard Road.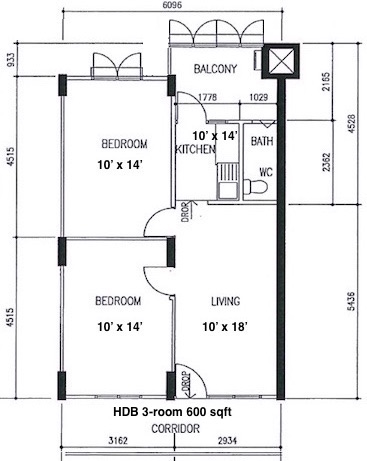 Home Ownership for the People Scheme was introduced by HDB in 1964 where any Singapore citizen earning less than $800 per month is eligible to purchase a flat under the scheme. The first project was in Queenstown Neighourhood 3 for 100 flats, which is bounded by Queensway and Commonwealth Close.

The Straits Times, 25 April 1967, Page 4 cutting.
Block 28, Jalan Bukit Merah / Hoy Fatt Road. Singapore 152028. Lease Tenure 99 years from June 1967. With 354 Dwelling Units, 148 units of 3-room unit and 59 units of 2-room unit on Jalan Bukit Merah side plus 117 units of 3-room unit and 29 units on Hoy Fatt Road side) on 1.1 hectare plot of land or 322 du/ha. The sale price of HDB 3-room was $6,200. New owners have to pay a
downpayment of $1,200 and followed by $60/month for 10 years (interest @8%p.a.)
26 April 1967, Block 28 Jalan Bukit Merah Ballot by Ho Cheng Choon (Parlimentry Secretary to Minister for National Development) witnessed by Lee Teck Him (sitted in the centre), MP of Tiong Bahru. Balloting a new HDB Flat was like a reality show, a VIP pulled from a left box the unit chit and right box the applicant chit. The draw result was then written on a chalk board while hopeful applicants looked on.
At the HDB Branch Office to pay housing loans or rental and conservancy fees
2015 Update: The same unit was valued at $350,000 and the private rental rate was $2,000 per month.
Updated On: 16.03.06