1955 - 2018 SIT Bukit Merah Estate
The history of Bukit Merah Estate dates back to 1955, when 7-storey SIT public flats at Block 1 to 22 (skipping block 4) Red Hill Close with 882 dwelling units (DU) in 21 blocks on a 5 hectares (ha) plot (177 DU/ha) were built by the then colonial government for their "British subjects without citizenship". When the flats were first built, they were rented at a monthly rate of $52 to the residents previously living at the kampong in Redhill.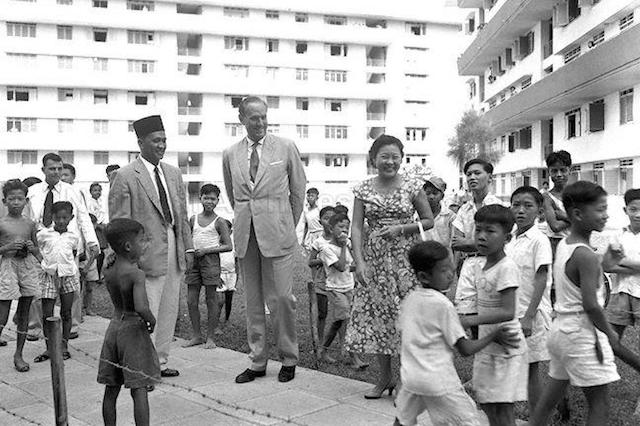 That same spot, 60 years later in 2015, imagine all these playful kids are probably in their seventies...
This rental policy lasted until 1983, after which the flats were sold to their occupants so that the long-time residents could at last have their own units. The 99-year HDB lease start in 1983.
December 2011 Update: HDB annouced a selective enbloc redevelopment scheme (SERS) and with the announcement, some units changed hands for SGD $400,000. The household will be resettled in a new nearby (0.5km away) City Vue @ Henderson, a public housing project with 1,232 dwelling units in five 48-storey blocks on a 3.7 hectare plot (333 DU/ha), will be ready by 2017.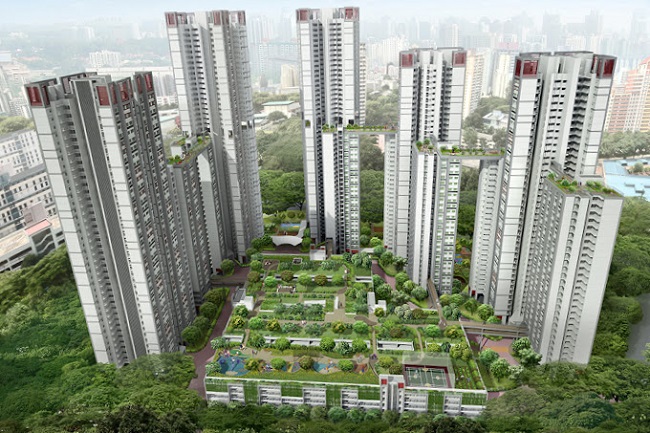 August 2013 Update: HDB City Vue @ Henderson (PDF Sales Booklet) new 3-room flat (65sqM) was priced the around $350,000. A new 4-room flat (80sqM) at around $500,000 and a new 5-room flat (110sqM) at around $700,000.
April 2014 Update: According to development expenditure for Ministry of National Developmnet in FY2014 Budget, Public Housing Development Programme for SERS Phase 4 - Blks 1 to 3 and 5 to 22 Redhill Close with the estimated project cost SGD $190,000,000 or $154,000 per dwelling unit. And a land-related expenditure of SGD $184,230,000 for the 3.7 Hectare of land (City Vue @ Henderson) or $50million per hectare - guess that amount HDB (MND) has to be paid to SLA (Ministry of Law).

July 2015 Update: 20 months into the Project (Bukit Merah RC53).
Land Area: 3.7 hectares
Maximum GFA: 148,000 M2 [Plot Ratio 4.0] = 3.7 x 10,000 x 4.0
Gross Leasable Floor Area = 101,506 M2
Total Construction Cost: $189,311,080
+ 187,133,000 (Building Cost - Straits Construction 19 Sep 2013 )
+ 228,000 (Sewer Diversion 06 Sep 2012)
+ 78,750 (Accredited Checking Services 19 Feb 2013)
+ 1,871,330 (Surbana - Architect, Structural, M&E, QS 1% of building cost)
Estimated construction cost ~ $154k per dwelling unit.
Guesstimated Land Cost ($50m/hectare): $184,230,000
Deduct a Multistory Car Park ~ $10Million (construction) + $12Million (land)
Guesstimated HDB development cost: $349,669,750 ($326psf)
Updated On: 15.08.02